Kinghornie Parish Church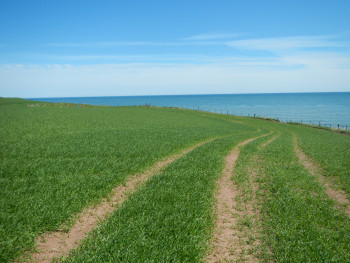 Dedication: unknown
Diocese of Brechin
could this be Cowie St Mary's Chapel? NO 8842 8731 (?)
Although Kinghornie is included in one list of parishes within the diocese of Brechin,(1) there is considerable doubt that anything here was ever parochial. It is thought to have been the site of a chapel established in thanksgiving by David II, in the location where he made land on his return to Scotland in 1341 after being pursued by an English fleet.
There were said to be remains still in place at the time of writing the Statistical Account,(2) though they had disappeared by the time of the New Statistical Account.(3) The presumed site is towards the seaward edge of a field subject to arable farming. Nothing is now visible on the ground, though aerial photographs have located traces of an enclosure and an L-shaped ditch on the promontory where the chapel is said to have been located.(4)
1. Peter G.B. McNeill and Hector L. MacQueen, eds, Atlas of Scottish History to 1707, Edinburgh, 1996, p. 352.
2. Statistical Account of Scotland, 1791-99, vol. 6, p. 208.
3. New Statistical Account, 1834-45, vol. 11, pp. 311-12.
4. Royal Commission on the Ancient and Historical Monuments of Scotland, OS 67/287/028-9 and RCAHMSAP 2001.
Click on any thumbnail to open the image gallery and slideshow.