Guthrie Parish Church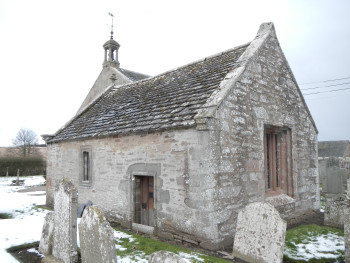 Dedication: Our Lady
Diocese of Brechin
NO 56737 50454
A lateral south aisle first built about 1464, and associated with a college founded in the late fifteenth century, is the only survivor of the medieval church. The main body of the church was rebuilt in 1826.
Between 1196 and 1199 King William granted the church of Guthrie to the monks of Arbroath Abbey.(1)  Full possession followed in 1221-1222 when Bishop Ralph of Brechin confirmed the church to the monks in proprios usus and giving them the right to serve the cure with a chaplain.(2)  Subsequent bishops of Brechin confirmed the annexation but the union was apparently ineffective and in 1274 the church, apparently a free parsonage, was assessed for tax in Bagimond's Roll at a valuation of 10 shillings.(3)  At some point before 1372 the parsonage of Guthrie was erected into a simple prebend of Brechin with the parish being served by a curate.(4)
The prebend existed until 1479 when the kirk at Guthrie was apparently erected into a collegiate church by Alexander, Lord Guthrie (see below), and endowed with the fruits of the parish. Further revenue was provided by the union of the church of Kirkforthar to new foundation, the joint funds to be used to enlarge and decorate the church of Guthrie (value Guthrie £9 and Kirkforthar £4). 
Rights of patronage and presentation were reserved to the bishop of Brechin.(5)  Under the constitution of the collegiate church, two-thirds of the parsonage revenues were assigned to provost with the remaining third given to support one simple prebend, while the vicarage fruits went to support a second prebend.  It was allowed for the cure to be served either by the provost in person or by a vicar pensioner.(6) 
In January 1506 King James IV confirmed at mortmain two charters of Sir Alexander Guthrie of that ilk, made with the consent of his son David Guthrie in September 1505, which reveal that a fourth prebend had been erected by that date.  The first granted to the provost and three prebendaries of the college of the Blessed Virgin Mary of Guthrie, described as founded by the late David Guthrie, Alexander's father, four manses erected on land at Guthrie assigned for the purpose by the late David.  The second, made for the salvation of the souls of David Guthrie and Janet his mother, assigned an annual rent of £10 from the lands of Lour for support of a canon celebrating in the church.(7)  The four prebends of the collegiate church were still in existence at the Reformation.(8)  Presentation to the provostry remained in the hands of the Guthries.(9)
1. RRS, ii, no.408; Arbroath Liber, i, no.96.
3. Arbroath Liber, i, nos 186, 187; SHS Misc, vi, 52.
4. Registrum Epsicopatus Brechinensis, i, no.15.
8. Kirk (ed), Book of Assumption of Thirds of Benefices, 390, 394.9. PL, xviii, no. 536.
Medieval
Synopsis of Cowan's Parishes: Granted to Arbroath by William I (1189x99) but this appears to have been ineffective. The parsonage was erected into a prebend of Brechin Cathedral before 1372. The erection of the collegiate church of Guthrie took place in 1479, with the vicarage and parsonage assigned to it and the cure served by the provost or a vicar pensioner.(1)
According to Mackinley the church was dedicated to Our Lady.(2)
1196x99 Church granted to Arbroath by William I with chapels, lands, teinds etc.
1213 Church included in the confirmation by William I of the possessions of Arbroath.(3)
1200 Church included in papal bull by Innocent III confirming possessions of Arbroath.(4)
1214x18 Church included in confirmation by Alexander II of all the lands and churches belonging to Arbroath.(5)
1211x18 Possession of church by Arbroath confirmed Radulf, bishop of Brechin in two charters, the first specifically related to the church, the second including all the churches held by Arbroath in the diocese of Brechin.(6)
1218 and 1218x22 Church included in confirmations by bishops Hugh and Gregory of Brechin of all churches held by Arbroath in their diocese.(7)
[No further references to church in Arbroath records (see Brechin)]
1372 Described as a prebend of Brechin Cathedral, served by a curate.(8)
1416 Alexander Barberii collated to prebend of Guthrie void by resignation of Patrick of Hawiston (£10 value).(9)
1422 Alexander dead and William de Hawick provided in his place.(10)
1425 Patrick Leche (MA) supplicates for the church, he feels it is void by the marriage contracted between the incumbent William de Hawick and Janet of Grimsby. Supplication unsuccessful as William still enjoys the prebend in 1430 (claims to be clerk of Robert, Duke of Albany, a claim he later withdraws (Calendar of Scottish Supplications to Rome, iii, 84).(11)
1431 Further attempt to remove William by John Feldew (Doctor of canon law) who accuses Hawick of being 'a layman bearing himself as a clerk'.(12) [outcome unclear]
1440 William Fichet (nephew of John, bishop of Brechin) holds the prebend of Guthrie until replaced [dead?] in 1444 by William de Forbes (described as a kinsman of James II and nephew of James Kennedy, bishop of St Andrews).(13)
1448 William Hawick holds the prebend. He owes 20s in entry fines (see Brechin dispute above).(14)
1454 Hugh Douglas, another nephew of James Kennedy provided to prebend, valued at £6, on resignation of William Forbes.(15)
1479 Erected into a collegiate church by Alexander, Lord Guthrie. Kirkforthar church united to new foundation, reserving right of patronage and presentation to the bishop f Brechin, the funds being used to enlarge and decorate the church of Guthrie (value Guthrie £9 and Kirkforthar £4).(16)
1506 Thomas Dickson (MA) provided to provostry of church, in the patronage of Alexander Guthrie.(17)
Post-medieval
Books of assumption of thirds of benefices and Accounts of the collectors of thirds of benefices: The Parish church college has 4 prebends by 1573/4. Parson and provost James Straitauchan gets £47, and the vicar and reader David Arrot gets £20.(18)
Account of Collectors of Thirds of Benefices (G. Donaldson): Third of provostry £15 11s 1 1/3d.(19)
1681 (25 July) The session records that the 'church of Guthrie was taken down and the roof thereof helped, got 2 new cuples, new 'fath' and slaited'. On 2nd Sept the kirk of Guthrie was noted as 'finished and the rigging stones put on upon Saturday the 13th of August 1681.  The choir was finished and the rigging stone put upon Saturday 10th of Sept. On 25 Sept a collection was taken for filling the 'cuples'.(20)
1681 (30 Sept) 30 desks were purchased at the kirks expense for putting up of seven parishes in the said kirk, four of them to be set up at the west end of the Balgages desk and three of them at the east end of the Pitmonnen burial stone in the choir. An agreement was made between the session and John Keg, wright, from Arbroath to cut and set up the desks.(21)
1681 (27 Nov) Andrew Shaw, glass wright, was engaged by the session to glass the windows of the kirk and choir for 1s per foot of glass.(22)
1682 (9 May) £40 given to John Pyot for all his work on making the pews and seat of repentance and other uses in the kirk.(23)
1683 (11 Feb) Payment of 12s to Alex Scott fort removing the seat of repentance from above the kirk door and placing of in the south side nook of the kirk.(24)
Statistical Account of Scotland (Rev William Milligan (minister of Kirkden), 1792): 'The kirk and school are situated in the northern part of the parish… The church is an elegant building for such a country parish. The wall, or at least a part of them, are said to be 300 years old'.(25)
New Statistical Account of Scotland (Rev George Arklay, 1842): 'The church is a plain building… It was erected in 1826'.(26) [same site as old church, no reference to any remains]
Architecture of Scottish Post-Reformation Churches: (George Hay): 1826; medieval aisle in kirk yard. Belfry early 19th century, incorporating some of 18th century traditions but also more severe classicism or gothic forms.(27)
1. Cowan, The parishes of medieval Scotland (Edinburgh, 1967), 79.
2. Mackinley, Scriptural Dedications, p. 84.
3. RRS, ii, nos. 408 & 513, Liber Aberbrothoc, i, nos. 1 & 96.
4. Liber Aberbrothoc, i, no. 221.
5. Liber Aberbrothoc, i, no. 100.
6. Liber Aberbrothoc, i, nos. 184 & 185.
7. Liber Aberbrothoc, i, nos. 186 & 187.
8. Registrum Brechinensis, i, no. 15.
9. CPP, 605 & 608, CPL, Ben, 337. CSSR, i, 60
11. CSSR, ii, 82CSSR, iii, 82-83, 88-89.
12. CSSR, iii, 189-90. CPL, viii, 404.
14. Registrum Brechinensis, i, no. 65.
15. CSSR, v, no.544. Registrum Brechinensis, ii, no. 379.
18. Kirk, The books of assumption of the thirds of benefices, 390 & 394.
19. Donaldson, Accounts of the collectors of thirds of benefices, 10.
20. NRS Guthrie Kirk Session, 1663-1736, CH2/535/1, fol. 33.
21. NRS Guthrie Kirk Session, 1663-1736, CH2/535/1, fol. 30.
22. NRS Guthrie Kirk Session, 1663-1736, CH2/535/1, fol. 34.
23. NRS Guthrie Kirk Session, 1663-1736, CH2/535/1, fol. 35.
24. NRS Guthrie Kirk Session, 1663-1736, CH2/535/1, fol. 37.
25. Statistical Account of Scotland, (1792), viii, 331.
26. New Statistical Account of Scotland, (1842), xi, 413.
27. Hay, The Architecture of Scottish Post-Reformation Churches, pp. 170, 230 & 245.
NRS Guthrie Kirk Session, 1663-1736, CH2/535/1.
Calendar of entries in the Papal registers relating to Great Britain and Ireland; Papal letters, 1893-, ed. W.H. Bliss, London.
Calendar of entries in the Papal registers relating to Great Britain and Ireland; Papal Petitions, 1893-, ed. W.H. Bliss, London.
Calendar of Papal letters to Scotland of Benedict XIII of Avignon, 1976, ed. F. McGurk, (Scottish History Society) Edinburgh.
Calendar of Scottish Supplications to Rome 1418-22, 1934, ed. E.R. Lindsay and A.I. Cameron, (Scottish History Society) Edinburgh.
Calendar of Scottish Supplications to Rome 1423-28, 1956, ed. A.I. Dunlop, (Scottish History Society) Edinburgh.
Calendar of Scottish Supplications to Rome 1428-32, 1970, ed. A.I. Dunlop; and I.B. Cowan, (Scottish History Society) Edinburgh.
Calendar of Scottish Supplications to Rome 1433-47, 1983, ed. A.I. Dunlop and D MacLauchlan, Glasgow.
Calendar of Scottish Supplications to Rome 1447-71, 1997, ed. J. Kirk, R.J. Tanner and A.I. Dunlop, Edinburgh.
Cowan, I.B., 1967, The parishes of medieval Scotland, (Scottish Record Society), Edinburgh.
Donaldson, G., 1949, Accounts of the collectors of thirds of benefices, (Scottish History Society), Edinburgh.
Hay, G., 1957, The Architecture of Scottish Post-Reformation Churches, 1560-1843, Oxford.
Kirk, J., 1995, The books of assumption of the thirds of benefices, (British Academy) Oxford.
Liber S Thome de Aberbrothoc, 1848-56, ed. C. Innes and P. Chalmers, (Bannatyne Club) Edinburgh, i.
Mackinley, J.M, 1910, Ancient Church Dedications in Scotland. Scriptural Dedications, Edinburgh.
New Statistical Account of Scotland, 1834-45, Edinburgh and London.
Regesta Regum Scottorum, Acts of William I (1165-1214), 1971, Edinburgh.
Registrum Episcopatus Brechinensis, 1856, ed. C. Innes (Bannatyne Club), Edinburgh, i.
Statistical Account of Scotland, 1791-9, ed. J. Sinclair, Edinburgh.
There was presumably a church at Guthrie from at least the late twelfth century, since at some date between 1189 and 1199 William the Lion granted the parish to Arbroath Abbey, a grant that was confirmed by successive bishops of Brechin.(1) This grant, however, proved ultimately ineffective, and from before 1372, the parsonage had been erected into a prebend of Brechin Cathedral.
As part of William the Lion's policy of granting estates to incomers in return for military services, he had given the lands of Guthrie to a member of the Carnell family;(2) but in the reign of David II the lands were granted to the family which was to take its name from Guthrie, and which, with one important interlude, was to retain ownership until relatively recently.(3) It is uncertain when that interlude of Guthrie ownership started, but its end is particularly significant since it was marked by major building works at both the castle and church of Guthrie, together with the foundation of a college of priests at the church.
The person who re-established the Guthrie family's hold on Guthrie was Sir David Guthrie of Kincaldrum, who had begun his career as a page in the household of the earl of Crawford and who subsequently rose high in the favour of both James II and James III, serving variously as Clerk of the Rolls, Treasurer of the Kingdom and Comptroller of the Household.(4) His re-acquisition of the lands of Guthrie was confirmed in a charter under the Great Seal of 25 March 1466, which records that it was the earl of Crawford who was resigning them in his favour.(5)
It is likely that by then Guthrie's ideas for giving architectural expression to his hold over Guthrie itself were well advanced, and these included a dynastic burial place where prayers could be offered for the welfare of the family in life and the salvation of their souls in death for all time to come by a college of priests. Unfortunately, Sir David did not live to see this college formally inaugurated before his death in 1479, though it is clear that he had made the necessary additions and alterations to the church.(6)
The main source of information on the foundation is correspondence with the papacy soon after Sir David's death, and it is evident from a letter of 19 May 1479 to Sir David's son, Sir Alexander, that his father had already enlarged the parish church as the setting for the devotions of his college.(7) In this letter the pope gave his consent to the parsonage being detached from the prebend at Brechin Cathedral, and to the establishment of a college which was to consist of four canons under the leadership of a provost. Financial provision for the fourth of those canons, however, was only eventually made in 1505, and a fifth canon may have been added later. The college was funded chiefly from the fruits of the parishes of Guthrie and Kirkbuddo and from property provided by Sir Alexander.
Apart from domestic accommodation for the provost and canons, about which nothing is known at Guthrie, the chief architectural requirements of a college of priests so far as the founder was concerned were an appropriate area where the daily collegiate services could take place and burial places for the founder and his family. Although there was no absolute necessity for new buildings where there was an existing church, most founders chose to augment the church within which a college was to be located as an appropriate reflection of their own aspirations, and this could be done in a variety of ways.
At Guthrie the parish church we now see is a building of 1826, partly on the site of the chancel of the earlier church, and the only relic of the medieval church is a rectangular aisle within the graveyard to its south-west, which survived through use as a Guthrie family burial aisle after the Reformation. This latter was almost certainly a part of the collegiate structures, and its original relationship to the medieval parish church is recorded in a view of the church drawn in 1814, now in the collections of General Hutton in the National Library of Scotland.(8) This shows the church as having had a main body of extended rectangular plan, with the aisle which still survives projecting asymmetrically from the south side of its nave.
Such an arrangement has parallels at a number of other collegiate churches, including those of Corstorphine and Cullen, and also that at Seton before the lateral aisle was replaced by one of a pair of transepts.(9) Parallels are also to be seen at several churches which never attained collegiate status, but where a family chantry chapel and burial place was added to an existing building, as for example at Airth, Borthwick or Glamis.
On the basis of such parallels, it may be thought likely that the lateral aisle was intended as a family burial place and presumably as a place for chantry masses, though it is likely that the main collegiate services would have taken place within the chancel of the church itself. It is also likely that Sir David, as founder, would have intended his own tomb to be placed in the most privileged location on the north side of the chancel, in the way that founder's tombs are still to be seen at the collegiate churches of Corstorphine, Lincluden and Seton, and most magnificently of all at St Salvator's College in St Andrews. In this position the tomb was always in sight when prayers were being offered, and additional benefits might come from the secondary use of the tomb as an Easter Sepulchre, when the burial of Christ was ritually represented through the entombment of the consecrated host between Good Friday and Easter Sunday.
Although some caution must be applied, since it is known that the church was extensively remodelled in 1681-2,(10) the architectural evidence recorded on the drawing of the church of 1814 suggests that the eastern part of the church and the aisle may have been built together as part of a single building campaign associated with the foundation of the college. The possible existence of a chancel arch dividing nave from collegiate choir is hinted at by a substantial finial shown about half way down the ridge of the roof which may have required some internal support. The late medieval date of the chancel is suggested by its east gable wall with straight skews, and particularly in the way that wall is unpierced, pointing to an intention to install the type of enriched retable for the high altar that had become more common at a period when ecclesiastical furnishings were being created on an ever more ambitious scale.
But the clearest indication of a late medieval date for the chancel is the details of the doorway and windows along the south wall. Towards the east end is a rectangular three-light window located so as to cast light onto the high altar, while towards the west end is a similar window of only two lights which would have illuminated the choir stalls of the canons; between those two is a round-headed priests' doorway giving access to the choir, with what appears to have been a heraldic tablet above it. The details seen here clearly reflect what is still to be seen in the surviving aisle both in the design of the windows and in the absence of windows through the east wall.
The aisle is a rubble-built rectangle of about 7.4 metres from north to south and 6.1 metres from east to west; there is no base course or cornice to its walls. Its north side, which abutted the south side of the church nave, was integral with the church. Connecting church and aisle was an unmoulded semi-circular arch, which in its present form appears to be a late remodelling, and which is surmounted by a framed tablet, presumably for an armorial plaque. Within that arch is now a wall pierced by doorway with a basket-arched lintel having a central ogee flip which was presumably built in 1826.
Since the demolition of the main body of the medieval church the north wall of the aisle has been surmounted by a gable with skewputts at its base and a finial at its apex. Apart from those alterations the aisle is essentially in its late medieval state, though there was a conservative restoration in 1881, carried out at the behest of Jane Guthrie.(11) The roof behind the north gable runs from north to south, and the south wall is surmounted by a gable with straight skews and moulded skewputts, and with a socket stone at the apex, presumably for a cross finial.
Below the gable is a three-light flat-headed window, with mullions rising straight up to the soffit of the lintel and no arched heads to the individual lights. This window has mouldings of two filleted rolls and a broad chamfer to the external jambs and lintel, and internally it has a segmental rear arch. As already said, the east wall was left blank to permit the placing of an altar retable on that side, and there are reminders of the position of the altar in an aumbry and a cut-back piscina basin towards the southern end of the interior of that wall.
The west wall has a lintelled doorway towards its southern end, with mouldings consisting of a filleted roll flanked by quadrant hollows, and with a segmental rear-arch. Towards the northern end of the west wall is a rectangular window entirely framed by rather unusual mouldings consisting of a filleted roll flanked by quadrant hollows at the angle, with a half roll and second quadrant hollow on the wall face; internally the rear-arch of this window is lintelled. It may be noted that a blocked doorway and a window with closely similar mouldings to those at Guthrie are to be seen in what was the nave of the chapel of Carmyllie, about eight kilometres to the south of Guthrie. Carmyllie a church that only achieved full parochial status after the Reformation, though it was clearly a building of some quality.
The roof over the aisle is a rare survival, though it is basically of what appears to have been a fairly common type. Each couple of rafters is connected by a collar, and at the base of the rafters there are sole-pieces across the wall-head and vertical ashlar pieces which are extended down a short distance across the wall face. This roof structure was evidently always intended to be concealed behind a boarded wagon or barrel ceiling of three-centred profile and with a surface application of ribs, of a type related to that still to be seen on a larger scale at King's College Chapel in Aberdeen. Curved formers were provided in the angles between the rafters and collars and between the rafters and ashlar pieces to provide an appropriate profile for the boards, and it is those boards which were decorated with the paintings to be discussed below.
The structural timbers of this roof have been dated by dendrochronological analysis to a felling date of 1464; since Guthrie's re-acquisition of his paternal estates was only formally registered under the Great Seal in 1466, however, a reason must be sought for what appears to have been a two year hiatus. One explanation might be that the charter was simply the confirmation of a conveyance that had been effectively completed at least two years earlier, though it must be said that this seems inherently unlikely.
Alternatively, it might be argued that Guthrie actually started building two years before the charter under the Great Seal was granted, though this would have been such a risky procedure that such an explanation must also be considered unlikely. On balance the more likely explanations are that, either Guthrie was acquiring materials in anticipation of construction once he had formally re-acquired his paternal estates, or that his wright chose to purchase partly seasoned timber once the work had begun.
On both these counts it might be objected that there is considerable documentary evidence that it was generally preferred to use oak when it was still green; certainly it was easier to work in that condition, and the seasoning process may have helped the joints of the timber to lock in place following construction.(12) Nevertheless, we know from a number of late medieval contracts surviving in England that seasoned timber might in some cases be preferred,(13) and it seems that this must have been what was done at Guthrie. Whatever the case, however, we do know from his son's correspondence with the pope that Sir David had carried out the remodelling and augmentation of the church before his death in 1479, and there seems little reason to doubt that this was closely associated with his acquisition of the lands of Guthrie in 1466.
Slightly more troubling for our understanding of the date of the aisle is the form of some of the windows, both in the surviving aisle, and those that are shown in the 1814 view of the demolished chancel. Rectangular windows divided into unarched lights by mullions rising unbroken to the window head are unusual in Scotland. Amongst the only other examples are a window at Dunkeld Cathedral dating from the time of Bishop Brown (1483-1515), windows at St Leonard's Collegiate Church at St Andrews of about 1512, windows lighting the lower corridor of the south quarter of Linlithgow Palace dating from the reign of James IV (1488-1513)(14) and windows lighting the lower corridor of the south quarter at Falkland Palace of about 1539.
Taking account of the dates of these examples, it is difficult to think that either the south window of the aisle or those of the chancel could be as early as the 1460s. However, this is perhaps most simply explained by the possibility that there was some remodelling of the aisle and chancel around the time that provision was made for a fourth canonry in 1505. Collegiate churches were usually very close to the hearts of the families of their founders as one of the principle ways by which their salvation was to be assured, and as we know from the well documented case of Seton, benefactions might continue to be made after the initial act of foundation and building, whether in the form of costly new furnishings and vestments or as improvements to the buildings.(15)
1.  Ian B. Cowan, The Parishes of Medieval Scotland (Scottish Record Society), Edinburgh, 1967, p. 79.
2. A.A.M. Duncan, Scotland, the Making of the Kingdom, Edinburgh, 1875, p. 177.
3. For an outline history of the Guthrie family see David Charles Guthrie, The Guthrie Family, 1178-1900, Northampton, 1906.
4. For a brief biography of Sir David see Dictionary of National Biography, vol. 8, p. 817; for the dates at which he held office see E.B. Fryde, D.E. Greenway, S. Porter and I.Roy (eds), Handbook of British Chronology, 3rd ed.,  London, 1986, pp. 179-204.
5. Register of the Great Seal of Scotland, ed. J.M.Thomson, et al., Edinburgh, 1882-1914, vol. 2, no. 868.
6. Ian B. Cowan and David E. Easson, Medieval Religious Houses, Scotland, 2nd ed., London and New York, 1976, p. 222.
7. Calendar of Entries in the Papal Registers relating to Great Britain and Ireland: Papal Letters, ed. W.H. Bliss, et al., London, 1893-, vol. 8, pp. 137-9; Registra Supplicationum in the Vatican Archives (MS Calendar in University of Glasgow Department of Scottish History), 782, fo. 70-71.
8. National Library of Scotland, Adv. MS. 30.5.22, 16, reproduced in M.R. Apted and W. Norman Robertson, 'Late fifteenth-century church paintings from Guthrie and Foulis Easter, Proceedings of the Society of Antiquaries of Scotland, vol. 95, 1961-2, pl. XVIII.
9. For fuller discussion of the author's views on collegiate planning see Richard Fawcett, Scottish Architectecture from the Accession of the Stewarts to the Reformation, Edinburgh, 1994, pp. 142-181.
10. National Records of Scotland, Guthrie Kirk Session, CH2535/1, fols 30-35.
11. A tablet above the aumbry in the east wall of the aisle states 'This Aisle forming part of the old Church of Guthrie founded AD 1479 was restored by Jane Guthrie in memory of her father and mother John Guthrie of Guthrie and Anne Douglas his wife also of her sisters Margaret and Ann and her brother William all of whose bodies rest here in peace AD 1881'. Jane Guthrie's own memorial is on the floor of the church.
12. Julian Munby, 'Wood', in John Blair and Nigel Ramsay (eds), English Medieval Industries, London and Rio Grande, 1991, p. 382.
13. L.F. Salzman (Building in England down to 1540, Oxford, 1952, p. 239) cites a number of contracts in which seasoned timber was specified.
14. Richard Fawcett, 'Scottish medieval window tracery', in David Breeze (ed.), Studies in Scottish Antiquity, Edinburgh, 1984, pp. 183-184.
15. John Fullarton (ed.), The History of the House of Seytoun by Sir Richard Maitland of Lethington, (Maitland Club), Edinburgh, 1829.
Click on any thumbnail to open the image gallery and slideshow.