Newburn Parish Church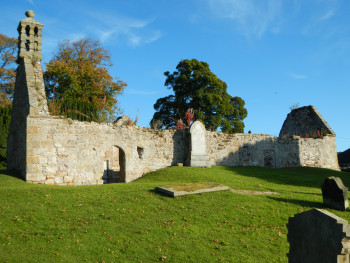 Dedication: St Serf?
Diocese of St Andrews
Deanery of Fife
NO 45309 03520
The shell of a medieval two-compartment church augmented by a lateral north aisle. Replaced by a new church on a different site in 1813-15, which was adapted as a house in 1970.
Between 1147 and 1151, probably on 11 June 1150, King David I and his son, Early Henry, granted the toun of Newburn with its dependent properties, and the lands of Balchrystie, to Dunfermline abbey as an endowment on the day of the dedication of the abbey church.(2)  The grant reserved to the priory of Lochleven the customary services due to the Céli Dé from those lands.  It is largely on the basis of this established connection with the early monastery at Lochleven that a dedication of the church of Newburn to St Serf has been postulated.  Although this grant does not specifically name the church it is likely that it was included in the grant as Bishop Robert (d.1159) confirmed Dunfermline's possession of the kirk of Newburn in a general charter which listed the churches in the abbey's possession.(3)
Apart from further confirmations of possession by bishops of St Andrews,(4) very few further references occur to Newburn in the twelfth or thirteenth centuries.  It was noted in the Pontifical Offices of St Andrews that Bishop David de Bernham dedicated the church on 15 July 1243.(5)  No record survives of an appropriation or vicarage settlement but this had evidently occurred by 1274 as the church was listed as vicarage in 1275 in the accounts of the papal tax-collector in Scotland, paying 5s 4d tax.(6)  Occasional references to vicars occur in the fifteenth and sixteenth centuries and the union of the parsonage to Dunfermline remained in force at the Reformation, when it was recorded that the appropriated fruits were worth £73 18s 4d to the abbey.  The vicarage was held by David Baxter, the former vicar then serving the church as reader, whose stipend amounted to 20 merks.(7)
1. S Taylor and G Markus, The Place-names of Fife, ii, Central Fife Between the Rivers Leven and Eden (Donington, 2008), 466-7.
2.. The Charters of David I, ed G W S Barrow (Woodbridge, 1999), no.171.
3. Registrum de Dunfermelyn (Bannatyne Club, 1842), no.92 [hereafter Dunfermline Registrum].
4. Dunfermline Registrum, no.94.
5. A O Anderson (ed), Early Sources of Scottish History, ii (Edinburgh, 1922), 523.
6. A I Dunlop (ed), 'Bagimond's Roll: Statement of the Tenths of the Kingdom of Scotland', Miscellany of the Scottish History Society, vi (1939), 38.
7. J Kirk (ed), The Books of Assumption of the Thirds of Benefices (Oxford, 1995), 56, 83.
Medieval
Synopsis of Cowan's Parishes: The church was confirmed to Dunfermline by Robert, bishop of St Andrews in 1126x59; it is likely that the church was granted, along with lands, to the abbey by David I. By 1274 there was a vicar pensioner, while parsonage and vicarage teinds remained with the abbey.(1)
Place Names of Fife vol. 2 notes that there is some evidence that the church was dedicated to St Serf (due to the connection with Lochleven).(2)
1442 Suit following death of John Masterton between William Bell, John of Kirkcaldy and Thomas de Aberegy. Bell wins and is dispensed for illegitimacy.(3)
1506 John Spendlusc dispensed to hold vicarage along with Wemyss.(4)
1507 William Preston (MA) holds the vicarage, [no reference to Spendlusc's fate].(5)
1548-50 1 man, Alan Lundie, from the parish registered his testaments at the St Andrews Commissary court. He asked to be buried in the parish church, paid 40s and the testament was witnessed by the curate of Newburn, David Baxter.(6)
Post-medieval
Books of assumption of thirds of benefices and Accounts of the collectors of thirds of benefices: The Parish church parsonage with Dunfermline, £73 18s 4d. Vicarage held by David Baxter, 20 marks.(7)
1629 (25 Jan) The session notes that the old bell needs to be sent with Robert Peele to Flanders and exchanged for another bell of 'better metall'. (the elders and heritors agree to contribute proportionally).(8)
1630 (2 Apr) The minister and elders considering that the kirk was ruinous and in high need of repair. The heritors and parishioners are to be stented proportionally, 360 marks in total the heritors to pay 240 marks (2/3).(9)
1631 (22 June) David Bell paid £4 for rehanging the bell and mending of it. Same day payment to John Denny for mending the bell house.(10)
1635 (26 Oct) £5 taken out of the poor box to pay the slater for pointing of the kirk and choir. Same payment made in 1641 (8 Aug).(11)
1641 (26 Dec) Agreement made with masons to build a house in the church yard, to be 24 foot in length and 116 in breadth.(12)
1643 (4 June) Session gives £20 to buy timber and nails that the session house might be repainted and put to a point and that timber porches might be made for the church.(13)
1679 (25 Jan) Henry Mairie met the minister and elders requiring satisfaction for pointing the kirk and the bell house.(14)
1679 (25 Apr) John Kirk, wright, paid for his work about the church.(15)
1687 (21 Feb) David Brown was paid a certain rent for mending some of the church roof. Brown was also paid £12 for slating the roof of the porch.(16)
1696 (29 July) Visitation of the church by the Presbytery of St Andrews, notes that the church is fine but that the manse and office houses require 296 4s Scots worth of repairs.(17)
1698 (9 May) The Presbytery have been informed of the ruinous condition of the church and notes that it stands in need of reparation. On 16 May a visitation of the church heritors and presbytery viewed the church and found it to be very ruinous and needful of reparation. Andrew Arthur, wright, George Hutchison, John Thomson, slaters report that 220 10s 4d Scots are required to mend the church. The heritors also note that the pulpit stands in a very incommodious spot for the minister by reason of the great window, just opposite to his face, which the kirk being very narrow, is very troublesome (to be moved to a more convenient place on the south side of the church. The seats are to be altered too).(18)
1703 (3 Mar) Report on the repairs required at Newburn. They report that the body of the kirk will cost 171 Scots and 113 Scots to be spent on the choir, 420 Scots in total with the repairs to the kirk yard dykes.(19)
Statistical Account of Scotland (Rev Mr Lawrie, 1794): 'there are vestiges of the east part of the church having been a Roman Catholic chapel'.(20)
New Statistical Account of Scotland (Rev Thomas Lawrie, 1836): 'The parish church…was built in 1815'.(21) [no references to earlier building]
Architecture of Scottish Post-Reformation Churches (George Hay): 1815, original pulpit and table pews, detached offertory house; fragments earlier kirk.(22)
1. Cowan, The parishes of medieval Scotland, 156.
2. Taylor & Markus, The Place-Names of Fife. Volume Two, pp. 466-467.
6. NRS St Andrews, Register of Testaments, 1 Aug 1549-12 Dec 1551, CC20/4/1, fol. 281.
7. Kirk, The books of assumption of the thirds of benefices, 56 & 83.
8. NRS Newburn Kirk Session, 1628-1687, CH2/278/1, fol. 2.
9. NRS Newburn Kirk Session, 1628-1687, CH2/278/1, fols. 14-15.
10. NRS Newburn Kirk Session, 1628-1687, CH2/278/1, fol. 25.
11. NRS Newburn Kirk Session, 1628-1687, CH2/278/1, fols. 45 & 73.
12. NRS Newburn Kirk Session, 1628-1687, CH2/278/1, fol. 75.
13. NRS Newburn Kirk Session, 1628-1687, CH2/278/1, fol. 89.
14. NRS Newburn Kirk Session, 1628-1687, CH2/278/1, fol. 128.
15. NRS Newburn Kirk Session, 1628-1687, CH2/278/1, fol. 129.
16. NRS Newburn Kirk Session, 1628-1687, CH2/278/1, fol. 187.
17. NRS Presbytery of St Andrews, Minutes, 1699-1705, CH2/1132/21, fols. 120-121.
18. NRS Presbytery of St Andrews, Minutes, 1693-1698, CH2/1132/20, fols. 221 & 225.
19. NRS Presbytery of St Andrews, Minutes, 1699-1705, CH2/1132/21,
20. Statistical Account of Scotland, (1794), xvi, 135.
21. New Statistical Account of Scotland, (1836), ix, 126.
22. Hay, The Architecture of Scottish Post-Reformation Churches, pp. 118, 171, 182, 187, 199, 233, 258.
NRS Newburn Kirk Session, 1628-1687, CH2/278/1.
NRS Presbytery of St Andrews, Minutes, 1693-1698, CH2/1132/20.
NRS Presbytery of St Andrews, Minutes, 1699-1705, CH2/1132/21.
NRS St Andrews, Register of Testaments, 1 Aug 1549-12 Dec 1551, CC20/4/1.
Calendar of entries in the Papal registers relating to Great Britain and Ireland; Papal letters, 1893-, ed. W.H. Bliss, London.
Calendar of Scottish Supplications to Rome 1433-47, 1983, ed. A.I. Dunlop and D MacLauchlan, Glasgow.
Cowan, I.B., 1967, The parishes of medieval Scotland, (Scottish Record Society), Edinburgh.
Hay, G., 1957, The Architecture of Scottish Post-Reformation Churches, 1560-1843, Oxford.
Kirk, J., 1995, The books of assumption of the thirds of benefices, (British Academy) Oxford.
New Statistical Account of Scotland, 1834-45, Edinburgh and London.
Statistical Account of Scotland, 1791-9, ed. J. Sinclair, Edinburgh.
Taylor, S & Markus G., 2008, The Place-Names of Fife. Volume Two. Central Fife between the Rovers Leven and Eden, Donington.
The parish of Newburn was confirmed to Dunfermline Abbey by Bishop Robert of St Andrews (1123-59), probably having been granted to that house by David I, and a vicarage was in place before 1274.(1) One of Bishop David de Bernham's many dedications was performed here on 15 July 1243,(2) though there is nothing in the existing fabric likely to date from then. A mid-eighteenth century reference to the church, citing earlier sources, says the church was built by Archbishop James Beaton (1521-39);(3) though it is not clear why he might have done so, none of the potentially diagnostic features in the building would be inconsistent with an early sixteenth-century date.
The church was abandoned after being replaced by a new church on a different site that was built to the designs of Alexander Leslie in 1813-15.(4) That second church has itself been made redundant and was converted into a house in 1970.(5)
Despite its abandonment for two centuries, the shell of the medieval church stands largely complete to the wall head.(6) It is a two-compartment structure built of rubble except for the worked dressings. It is set within a churchyard that slopes towards the south and west; the ground levels within the churchyard have risen, masking the lower parts of the church walls, especially on the north side. The overall length of the building is about 18.5 metres, while the width of the chancel is about 5.6 metres and that of the nave about 6 metres.
The principal entrance into the church is a round-headed doorway with chamfered reveals and without a hood mould, set towards the west end of the south nave wall. It is the only opening that remains unblocked. The blocking of other openings makes it difficult to be certain which are medieval, though it may be assumed that a rectangular doorway with broadly chamfered revels in the south wall of the chancel was provided as a priest's entrance, and a heavily disturbed opening close to the east end of the chancel south wall may have been a large window provided to cast light on the altar.
The gable walls, which were initially unpierced, are characteristic of later medieval form in having a chamfered intake at the base of the gables, and those gables are coped. Internally, there has evidently been a chancel arch at the junction of nave and chancel, but it has been removed and the walls dressed back diagonally, presumably to create a less divided space that was suitable for reformed worship. The chancel has been well equipped with liturgical furnishings. Adjacent to the blocked south window are the remains of a piscina set within a pointed-arched recess with chamfered reveals. In the opposite wall is a more elaborately moulded arched sacrament house; this could be a secondary insertion, since it is not vertically aligned with a lower rectangular aumbry, which could have served that function previously. There is also an aumbry towards the south end of the east wall.
A range of modifications have been made since the Reformation. Large rectangular doorways with narrowly chamfered surrounds have been cut through the south flank of both the chancel and the nave, and there has also been an elevated doorway in the west gable which has had a window above it. These were presumably cut to give access to pews and to a west gallery. A number of windows of varying scale have also been cut.
A notable addition to the church is an eighteenth-century birdcage bellcote on the west gable, with square baluster legs and a strapped ball finial. The only significant post-Reformation augmentation to the plan of the church was a lateral aisle at the eastern end of the north nave wall, of presumably early eighteenth-century date. It is entered by a round-arched doorway with a raised margin and block imposts and keystone. Although entered directly from the churchyard, its internal floor level is well above that of the nave, suggesting the possibility that there may be a vault beneath. It was presumably provided as a laird's aisle rather than to afford additional congregational seating. 
One other addition to the fabric that must be mentioned is an eighteenth-century burial enclosure for the Rintoul family, on the north side of the chancel, which is open to the sky and has had no internal communication with the church. Its entrance, through a wide opening in its west wall, is framed by block-rusticated piers.
1. Ian B.Cowan, The Parishes of Medieval Scotland (Scottish Record Society), 1967, p. 156.
2. Alan Orr Anderson, Early Sources of Scottish History, Edinburgh, 1922, vol. 2, p. 523.
3. Genealogical Collections Concerning Families in Scotland made by Walter Macfarlane, 1750-51, ed. James T. Clark (Scottish History Society), vol. 1, 1900, p. 6, referred to in Simon Taylor, Place-Names of Fife, Donington, vol. 2, 2008, p. 466.
4. National Records of Scotland, GD 245/7/6/3-6.
5. Aspects of Conservation: Three, New Life for Old Churches , London, 1977, case twenty four.
6. Accounts of the church will be found in: Royal Commission on the Ancient and Historical Monuments of Scotland, Inventory of Fife, Kinross and Clackmannan, Edinburgh, 1933, p. 222; John Gifford, the Buildings of Scotland, Fife, London, 1988, p. 334.
Click on any thumbnail to open the image gallery and slideshow.