Dalbog Parish Church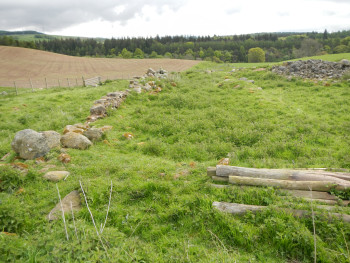 Dedication: unknown
Diocese of St Andrews
Deanery of Angus
NO 588 720 (?)
Fragmentary parallel lines of masonry may mark the site of the church.
Although Dalbog is listed as a parish church in the Atlas of Scottish History,(1) it is not included in Ian Cowan's list of parishes.(2) It is not clear what the evidence for its parochial status might be, and Jervise says that it was no more than a chapel in Newdosk parish.(3) It was said that in 1760 its walls stood to a height of about four to five feet (1.22 to 1.52 metres), but that it was demolished by the farmer, Mr R. Christison, in the mid-nineteenth century.
The present farmer believes that its remains are at NO 59102 71978, where there is an approximately oriented alignment of parallel lines of rubble, stretches of which are mortared.
1. Peter G.B. McNeill and Hector L. MacQueen, Atlas of Scottish History to 1707, Edinburgh, 1996, p. 349.
2. Ian B. Cowan, The Parishes of Medieval Scotland (Scottish Record Society), 1967.
3. Andrew Jervise, History and Traditions of the Land of the Lindsays, Edinburgh, 2nd ed., 1882, p. 25.
Click on any thumbnail to open the image gallery and slideshow.