Tullichettle / Tullidene / Tullicheddill Parish Church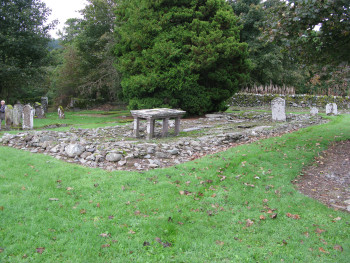 Dedication: St Serf
Diocese of Dunblane
County of Perthshire
Perth and Kinross Council
NN 7678 1965
The remains of the medieval church survive as a rectangle of collapsed rubble footings.
Nothing is known of this church, known variously as Tullicheddill or St Servanus of Tulliedene, before its grant in 1219 by Gillechriosd, earl of Strathearn, and confirmation in c.1220 by his son, Earl Robert, to the canons of Inchaffray.(2) A grant in proprios usus probably followed soon after, but there is no surviving charter confirming this. Before 1234, Bishop Clement had laid claim to the second teinds of both this church and the church of Aberuthven, but in August of that year abandoned his action in return for an annual payment of £16 to be made to him by the canons but remitted £6 until such time as they had received full corporal possession of any one of five other parish churches in his diocese which they held.(3) A vicarage settlement of February 1239/40, agreed by the dean and chapter of Dunblane, confirmed full corporal possession of Tulliedene with the other churches held by Inchaffray.(4) The church was served by a curate thereafter.(5) In July 1560, the kirklands of Tullicheddill were feued to Patrick Murray of Tibbermore.(6) Following the Reformation, when qualified ministers were in short supply, the parish was served by William Drummond, who also was serving as minister for the adjoining parishes of Crieff, Strageath, Comrie and Monzievaird.(7)
1. Cockburn, Medieval Bishops of Dunblane, 9.
2. Inchaffray Charters, no XLI.
3. Inchaffray Charters, no LX, LXI.
4. Inchaffray Charters, no LXVII.
The churchyard of Tullichettle is on the east bank of the Water of Ruchill, about two kilometres to the south of Comrie. The church has presumably been abandoned since it was united with Comrie in 1702, and now survives as no more than a rectangle of rubble footings with occasional facings in evidence. It was a diminutive structure with dimensions of 14.8 by 6.1 metres, and was aligned from north-east to south-west. Of the memorials within and around the church, there are some that may be of medieval date: one is inscribed with a cross, while another may have been a simple coped monument.
Charters, Bulls and other Documents relating to the Abbey of Inchaffray, 1908, (Scottish History Society), Edinburgh, nos XLI, LX, LXI, LXVII.
Cockburn, J.H., 1959, The Mediaeval Bishops of Dunblane and their Church, Edinburgh, 9.
Cowan, I.B., 1967, The parishes of medieval Scotland, (Scottish Record Society), Edinburgh, 201.
Donaldson, G. 1949, Accounts of the collectors of thirds of benefices, (Scottish History Society), Edinburgh, 250.
Registrum Magni Sigilli Regum Scotorum, 1886, iv (1546-1580), Edinburgh no 2062.
Statistical Account of Scotland, 1791-9, ed. J. Sinclair, Edinburgh, xi (1794), 178.
Click on any thumbnail to open the image gallery and slideshow.