Crombie / Abercrombie Parish Church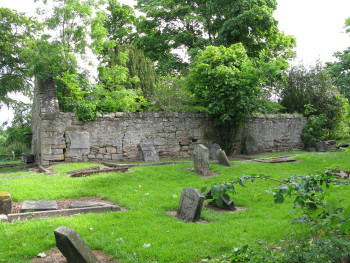 Dedication: unknown
Diocese of Dunkeld
Deanery of Fife and Strathearn
County of Fife
Fife Council
NS 0282 8551
The church was a simple rectangular structure of relatively small size, which was adapted for use as a burial enclosure after abandonment for worship in the early seventeenth century, leaving few identifiably medieval features in evidence. It is located near the shore of the Firth of Forth, about 800 metres south-east of Torryburn, within an isolated and overgrown churchyard.
Dedication: unknown
Abercrombie (or Crombie as it was later named) first occurs in surviving historical records in a charter of King Macolm IV datable to between 1157 and 1160.(1) By this charter, the king granted the monks of Dunfermline the church and chapel of the castle of Perth and the church of Kellin (later known as Carnbee) and its dependent chapel of Abercrombie. At the time of the grant Kellin/Carnbee and Abercrombie both lay within the diocese of St Andrews and Richard, bishop of St Andrews, confirmed the monks' possession of parish church and chapel. King William also confirmed Dunfermline's possession of the chapel of Abercrombie in his general charter to the abbey of c.1166.(2) Towards the end of the twelfth century, Abercrombie gained independent parochial status but its separation from Kellin also saw its separation from St Andrews diocese and attachment to Dunkeld by a process which, unfortunately, has left no surviving record.(3) Dunfermline was confirmed in possession of the new parish church of Abercrombie by Hugh, bishop of Dunkeld, who issued a charter annexing the church in proprios usus to the abbey and instituting a vicarage to serve the cure.(4)
Although he had earlier confirmed Dunfermline's possession, in 1217 Earl Malcolm of Fife granted the land of Abercrombie to the monks of Culross as part of the founding endowment of their abbey.(5) The grant and subsequent confirmations of it by King Alexander II in 1234 and Earl Duncan IV of Fife in the early fourteenth century refer only to the land and to the church.(6) With the church in Dunfermline's hands but the lands of Abercrombie in the possession of Culross, contention over payment of teind was likely to emerge rapidly as an issue. A composition over the teinds was settled between the two abbeys in 1227, which led eventually to the church and its fruits passing in entirety to Culross.(7) This had clearly been effected fully before 1274 as although Abercrombie was named in the first year of taxation in Bagimond's Roll no assessment was entered for it and it is not listed in the second year.(8) It appears that the church was served by a chaplain or by one of the monks of Culross for the remainder of the pre-Reformation period, and in the 1560s a charge of £100 per annum was levied on the abbey's revenues for payment of the minister of 'Crummy kirk'.(9)
4. Dunfermline Registrum, nos 53, 94, 129.
5. Douglas, 'Culross Abbey', 70.
6. Douglas, 'Culross Abbey', 73, 74.
7. Dunfermline Registrum, nos 116, 144, 214.
The church was built as a rectangle of about 15.75 metres from east to west and 6.1 metres from north to south. It is constructed of buff-coloured rubble with dressed stone to windows, doorways and quoins, but many of its medieval features were suppressed when it was adapted as a burial enclosure. The north wall appears to have been largely rebuilt around that time, with a central entrance formed with re-used chamfered jamb stones. The south wall and west gable still stand almost to full height, the former being roughly coped with rubble and cement; the east gable, however, is in a state of progressive collapse. Additional burial enclosures were constructed around much of the perimeter, except for the eastern part of the north wall; all of these are themselves now in a state of advanced decay.
The east wall is known to have been pierced by a triplet of small ashlar-built lancets, and these are recorded on Walker's measured drawings of 1888. Slight traces of two of these are still to be seen, with evidence of a narrow chamfer to the external reveal of the northern surviving lancet. The lower part of the southern lancet was blocked secondarily by a square aumbry with a rebate for a door frame. There is a second aumbry without rebates a short distance down the south wall. Partial evidence for a number of features is to be observed down the length of the south wall. Towards the east end of the wall there is external evidence for a window with a broadly chamfered east reveal. A little further west there is both internal and external evidence for a doorway that may have had chamfered jambs; this was presumably the priest's entrance. Internally, near the mid-point of the south wall there is a roughly defined area of set-back masonry that may once have been associated with a window, and to the west of that there is both internal and external evidence of a doorway with broadly chamfered jambs that was presumably the principal entrance for the laity.
After the Reformation, and at a date before 1623, Crombie and Torry were united as the parish of Torryburn. The church at Torryburn that is currently in use for worship is a structure of 1799-1800, but it possibly incorporates an aisle of 1696. Following its abandonment, the church at Crombie was maintained as a burial aisle, latterly for the Colville of Ochiltree family.
Cowan, I.B., 1967, The parishes of medieval Scotland, (Scottish Record Society), Edinburgh, 39-40.
Douglas, W., 1927, 'Culross Abbey and its charters', Proceedings of the Society of Antiquaries of Scotland, xl, 67-94 at 70.
Dunlop, A.I., 1939, 'Bagimond's Roll, statement of the tenths of the kingdom of Scotland' Miscellany of the Scottish History Society, vi, 1-77, at 48.
Kirk, J., 1995, The books of assumption of the thirds of benefices, (British Academy) Oxford, 292.
New Statistical Account of Scotland, 1845, Edinburgh and London, ix (Fife), 732.
Regesta Regum Scottorum, Acts of Malcolm IV (1153-65), 1960, Edinburgh, no 157.
Regesta Regum Scottorum, Acts of William I (1165-1214), 1971, Edinburgh, no 30.
Registrum de Dunfermelyn. Liber cartarun abbatie Benedictine S.S. Trinitatis et B. Margarete regine de Dunfermelyn, 1842, ed. C. Innes, (Bannatyne Club), Edinburgh, nos 53, 94, 116, 129, 144, 214.
Royal Commission on the Ancient and Historical Monuments of Scotland, Canmore database.
Royal Commission on the Ancient and Historical Monuments of Scotland, 1933, Inventory of Fife, Kinross and Clackmannan, Edinburgh, 272-3.
Walker, J.R., 1888, Pre-Reformation churches, Fife and the Lothians, Edinburgh.
Click on any thumbnail to open the image gallery and slideshow.