Fortingall / Ferthekill Parish Church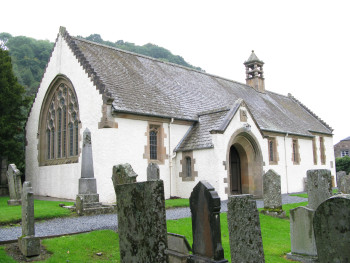 Dedication: unknown
Diocese of Dunkeld
Deanery of Athole and Drumalbane
County of Perthshire
Perth and Kinross Council
NN 7419 4700
Dedication: unknown
Fragments of Class III sculpture from the church suggest that Fortingall was the location of an ecclesiastical establishment by at least the ninth century. There is, however, no documentary record of a church at Fortingall before the thirteenth century, when King Alexander II granted it to the common fund of the resident canons of Dunkeld cathedral and Bishop Geoffrey confirmed the annexation.(1)  It appears that the annexation involved both the parsonage and vicarage, as the church is not named in Bagimond's Roll in the 1270s. A vicarage settlement may have been instituted which established a vicarage pensionary to serve the cure, but the existence of this office is recorded for the first time only in 1406, when Bishop Robert de Cardeny instructed the induction of sir John of Glenorchy into corporal possession of the pensionary vicarage as successor to the late vicar, sir Finlay.(2)  Other evidence identified by Ian Cowan suggested that the vicarage was annexed to the common fund by Bishop James Bruce c.1444, that the vicarage pensionary was erected into a perpetual vicarage in 1490, and that at the Reformation both parsonage and vicarage were annexed to the common fund and the cure was served by a vicarage pensionary.(3)  In February 1500/1, a detailed settlement of the vicarage was drawn up between Bishop George Brown and sir Donald McNaughton, vicar of Fortingall which helps to clear up some of the confusion.(4)  Donald renounced all of his rights to the portionary vicarage and accepted that in future he and his successors would accept the 'old erection' of the vicarage, which was valued at 13 merks, with the manse, land and pasture rights, plus the oblations. The chapter of Dunkeld also agreed to pay him 12 merks annually during his lifetime, from which he would provide a chaplain for the chapel of Branboth in Glenlyon. After Donald's death, the chapter agreed to institute a perpetual chaplainry with a pension of 12 merks annually at Branboth, together with a glebe attached to the chapel for his support (see also entry on Dull). The best-known of the vicars of Fortingall was James Macgregor, dean of Lismore from 1514 to 1551 and vicar of Fortingall probably from around 1520.(5)  Macgregor was a collector of Gaelic poetry and lyrics, gathered into the collection known as the Book of the Dean of Lismore. It is probable but unconfirmed by any surviving source that he held the vicarage perpetual. All that can be said with certainty is that it was believed by Myln in the early 1500s that an annexation had occurred in the early thirteenth century and that the annexation was still in place in the 1560s.(6)
One of the most important records of events in the Glenorchy-Breadalbane in district was composed at Fortingall in the period from the 1530s to 1570s. Known as the Chronicle of Fortingall, the record was composed by an otherwise un-named Macgregor priest who served there as curate for James Macgregor, Dean of Lismore and vicar of Fortingall, from 1532.(7)  He chronicled how he said his first mass in 1531 and came to the cure of Fortingall in 1532.(8)  His chronicle records a number of interments of members of the local gentry including that in 1564 of John McConnachie in a wooden chest',(9) the building of a new house beside the church of Fortingall,(10) and the death of Gregor, son of the vicar of Fortingall, in his father's house there.(11)
2. HMC seventh Report, Appendix, 706, no 19.
4. HMC seventh Report, Appendix, 710, no 76.
5. Watt and Murray, Fasti, revised edn (Edinburgh, 2003), 41.
6. Kirk (ed.), Book of Assumptions, 300.
7. Black Book of Taymouth, viii-xi, 109-148.
8. Black Book of Taymouth, 120, 121.
9. Black Book of Taymouth, 122, 123, 125, 132, 133, 137, 139, 140.
10. Black Book of Taymouth, 128.
The present building was erected in 1901-2, but its main body perpetuates the two-compartment plan of its predecessor, which itself may partly reflect that of the medieval church.
The area around Fortingall is particularly rich in evidence for prehistoric occupation dating back to the Neolithic period, and recent analysis of crop marks has confirmed that it must have been a cult centre of great antiquity. Clear evidence for Early Christian worship is provided by four finely carved cross slab fragments that were found within the walls of the old church when it was largely dismantled in advance of construction of the new church in 1901. In addition there are some simple slabs with incised crosses within the churchyard, and an early hand bell is displayed within a recess in the chancel area of the church.
Fortingall was united with the parishes of Glenlyon and Kinloch Rannoch in 1585, but this was reversed in 1845. However, in 1954 Glenlyon was again united with Fortingall to form a single parish, and since 1996 they have been part of a linked charge with Kenmore and Lawers.
The present church is a delightful building in an Arts and Crafts idiom, with harled walls and red sandstone dressings externally, and rock-faced masonry as a foil to the ashlar dressings internally. It was built in 1901-2 by W. Dunn and R. Watson for Sir Donald Currie, as part of his general improvements throughout the village. Its plan of elongated rectangular nave, shorter rectangular chancel, south porch and north vestry, with a bellcote over the chancel arch, was entirely in keeping with the ecclesiological principles that prevailed within parts of the Church of Scotland in the years around 1900. It reveals a very similar spirit to the same patron's and architects' later restoration of Dunkeld Cathedral's chancel, in 1909.
However, despite its early twentieth-century appearance, comparison with views of the building that preceded it, show that it took its lead from the earlier church in both the overall dimensions and the two-compartment plan. The likelihood that the plan followed that of its medieval predecessor finds support from the entry in the New Statistical Account of 1845, which stated that the church 'bears every mark of having been a Popish construction'. The same author commented that his church was 'rather inconveniently narrow', which was a common view of medieval rural parish churches at a time when what would have been preferred was a proportionately wider preaching hall. Further support for the pre-1901 church being essentially medieval comes from the discovery of numbers of Early Christian cross slab fragments within its walls when they were dismantled: although such re-use might now seem sacrilegious, this was a common practice in the later middle ages, as is also to be seen at Meigle and Fowlis Wester in the area covered by this study. The fragments are now displayed within the chancel.
While it thus seems very likely that the plan of the present church was conditioned by that of its predecessor, however, there is no evidence that any of its masonry was retained either internally or externally. Despite – or perhaps because of - the fact that there had been an extensive campaign of restoration in about 1821, it is probable that there was little in what was to be seen by 1901 that was considered worthy of retention. Gables of rather domestic appearance had been constructed along the flanks of both nave and chancel, and all of the openings were of rectangular form. The only feature that was deemed worthy of respect and retention was the bellcote that had been raised over the west gable in 1768, and that was replicated by the new bellcote placed over the chancel arch, with the original removed to the Stewart of Garth burial enclosure to the south-west of the church.
Allen, J.R. and Anderson, J., 1903, The Early Christian Monuments of Scotland, Edinburgh, pt 3, 508-10.
Bowie, W., 1855, The black book of Taymouth, ed. C. Innes, Edinburgh, viii-xi, 109-48.
Cowan, I.B., 1967, The parishes of medieval Scotland, (Scottish Record Society), Edinburgh, 69-70.
Gifford, J., 2007, The Buildings of Scotland, Perth and Kinross, New Haven and London, 373-4.
Kirk, J., 1995, The books of assumption of the thirds of benefices, (British Academy) Oxford, 300.
New Statistical Account of Scotland, 1845, Edinburgh and London, x, 555-6.
Perth and Kinross Heritage Trust, 2003, Fortingall Church and Village, Perth.
Robertson, N.M., 1997, 'The early medieval carved stones of Fortingall', in D. Henry (ed.), The worm, the germ and the thorn, Balgavies, 133-48.
Royal Commission on the Ancient and Historical Monuments of Scotland, Canmore database.
Vitae Dunkeldensis Ecclesiae Episcoporum…Ad Annum Mdxv, 1823, ed. T. Thomson, (Bannatyne Club), Edinburgh, 10.
Watt, D.E.R. and Murray, A.L., 2003, Fasti Ecclesiae Scoticanae Medii Aevi Ad Annum 1638, rev. ed. (Scottish Record Society), Edinburgh, 41.
Click on any thumbnail to open the image gallery and slideshow.