Kirkmichael / Strathardle Parish Church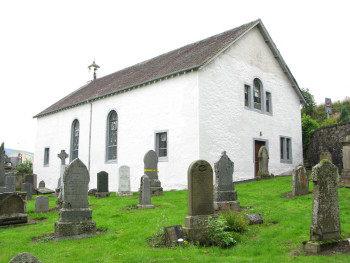 Dedication: St Michael
Diocese of Dunkeld
Deanery of Athole and Drumalbane
County of Perthshire
Perth and Kinross Council
NO 0803 6009
In its present form the church is a large rectangular structure of the 1790s; nothing is known of its medieval predecessor.
Dedication: St Michael
Malcolm, earl of Atholl, granted the church to Dunfermline Abbey between 1182 and 1189, with possession being confirmed by Bishop John I of Dunkeld between 1182 and 1203, King William between 1183 and 1195, and by Pope Innocent III in 1207.(1) Although it was clearly the intention from the time of the earl's original grant that the monks should have corporal possession of the church, it appears that Dunfermline was at first only in secure possession of the patronage of Kirkmichael. Following a papal bull of 1234, Bishop Geoffrey confirmed the church in proprios usus to the monks, with provision of a vicar to serve the cure.(2) Despite what appears to have been an effective appropriation, the parsonage of Kirkmichael appears in the first taxation in Bagimond's Roll, while the church and its clearly pensionary vicarage are recorded in the second year.(3) The kirk of Strathardle, valued jointly with the kirk of Moulin at £120, still pertained to the abbey at the Reformation.(4)
1. Dunfermline Registrum, nos 73, 127, 245; RRS, ii, no 242.
2. Dunfermline Registrum, nos 132, 133, 271.
A number of memorials in the churchyard must pre-date the existing church, and there seems no reason to doubt that this is the long-established location of the parish church; indeed, the alignment of the present building, from east-south-east to west-south-west, may indicate that it occupies the same site as its predecessors.
The author of the entry in the Statistical Account in 1793-4 stated that the church had been rebuilt in 1792 at a cost of about £370, and there were subsequent works in 1874 and 1892. Nothing is known to have survived through these operations of the medieval building.
Cowan, I.B., 1967, The parishes of medieval Scotland, (Scottish Record Society), Edinburgh, 190.
Dunlop, A.I., 1939, 'Bagimond's Roll, statement of the tenths of the kingdom of Scotland' Miscellany of the Scottish History Society, vi, 1-77, at 47, 73.
Gifford, J., 2007, The Buildings of Scotland, Perth and Kinross, New Haven and London, 495.
Hay, G., 1957, The architecture of Scottish post-Reformation churches, Oxford, 269.
Kirk, J., 1995, The books of assumption of the thirds of benefices, (British Academy) Oxford, 26, 38, 48.
Registrum de Dunfermelyn. Liber cartarum abbatie Benedictine S.S. Trinitatis et B. Margarete regine de Dunfermelyn, 1842, ed. C. Innes, (Bannatyne Club), Edinburgh, nos 73, 127, 132, 133, 245, 271.
Royal Commission on the Ancient and Historical Monuments of Scotland, Canmore database.
Royal Commission on the Ancient and Historical Monuments of Scotland, 1990, North-East Perth, an archaeological landscape, Edinburgh, 88.
Statistical Account of Scotland, 1791-9, ed. J. Sinclair, Edinburgh, xv (1795), 515.
Click on any thumbnail to open the image gallery and slideshow.