Lethendy Parish Church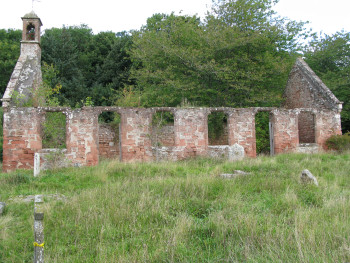 Dedication: unknown
Diocese of Dunkeld
Deanery of Angus
County of Perthshire
Perth and Kinross Council
NO 1300 4180
The size, proportions and orientation of the roofless shell of the eighteenth-century church suggest that it may stand on the foundations of its medieval predecessor.
Dedication: unknown
There appears to be no surviving record of the church of Lethendy before the sixteenth century and it seems likely that it had already been annexed in the thirteenth century to the prebend of the chancellor of Dunkeld, to which it is recorded as annexed at the Reformation.(1) As Ian Cowan suggested, the listing of the chancellor's prebend in Bagimond's Roll but the absence of the church of Lethendy probably indicates that both parsonage and vicarage had been annexed to it before 1274/5.(2) A separate endowed chaplainry had been established in the church before February 1510, when the king granted Andrew Hering of Glasclune the lands and barony of Glasclune, including the advowson and gift of the chaplainry of the Blessed Virgin Mary within the parish church of Lethendy.(3)
1. Cowan, Parishes, 131; Kirk (ed.), Book of Assumptions, 308.
The church is said to have been built in 1574, and was reconstructed in 1758. However, in 1796 the Statistical Account stated that it was in poor repair, because none of the heritors either lived in the parish or displayed any interest in it. It was again rebuilt in 1847 to the designs of John Ramsay, when the four windows and two doorways of the south flank were given their existing shoulder-lintelled form, and a bellcote was placed over the west gable.
The church is now a roofless rectangular shell in an increasingly overgrown churchyard. Successive reconstructions have left no identifiable evidence of medieval fabric. Nevertheless, its oriented alignment, its dimensions of 17.2 metres from east to west and of 6.92 metres from north to south, together with the wall thickness of 80 centimetres, strongly suggest that a medieval building has closely conditioned the planning of all of its successors.
Lethendy was united with the parish of Kinloch in 1806.
Cowan, I.B., 1967, The parishes of medieval Scotland, (Scottish Record Society), Edinburgh, 131.
Dunlop, A.I., 1939, 'Bagimond's Roll, statement of the tenths of the kingdom of Scotland', Miscellany of the Scottish History Society, vi, 1-77, at 74.
Gifford, J., 2007, The Buildings of Scotland, Perth and Kinross, New Haven and London, 500-1.
Kirk, J., 1995, The books of assumption of the thirds of benefices, (British Academy) Oxford, 308.
New Statistical Account of Scotland, 1845, Edinburgh and London, x, 1001.
Registrum Magni Sigilli Regum Scotorum, 1882, Edinburgh, ii (1424-1513), no 3423.
Rentale Dunkeldense, 1915, ed. R.K. Hannay, (Scottish History Society), Edinburgh, 347.
Royal Commission on the Ancient and Historical Monuments of Scotland, Canmore database.
Royal Commission on the Ancient and Historical Monuments of Scotland, 1994, South-East Perth, an archaeological landscape, Edinburgh, 162.
Statistical Account of Scotland, 1791-9, ed. J. Sinclair, Edinburgh, xvii (1796), 526.
Click on any thumbnail to open the image gallery and slideshow.