Logiebride Parish Church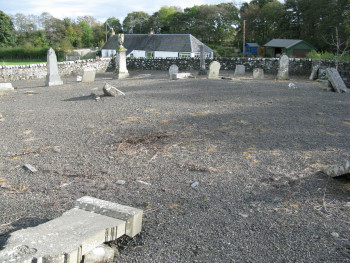 Dedication: St Bridget/Bride
Diocese of Dunkeld
Deanery of Angus
County of Perthshire
Perth and Kinross Council
NO 0493 3417
The site of the church is represented by a slight platform within the graveyard.
Dedication: St Bridget/Bride
The church of Logiebride has made little impact in the surviving historical record. It appears first in Bagimond's Roll in 1274-5, where it was listed as a free parsonage.(1) Alexander Myln in his Vitae Dunkeldensis Ecclesiae Episcoporum claimed that during the episcopate of Bishop George Brown (1484-1506) both parsonage and vicarage were annexed by the bishop to a restored prebend of Ferdischaw in Dunkeld Cathedral.(2) It is unclear if sir Andrew White, named as rector of Logiebride in a charter of July 1500, was a prebendary or holder of the parsonage whilst it was still un-annexed.(3) The cure appears to have been served by a chaplain after the creation of the prebend.(4) The annexation of parsonage and vicarage remained in place at the Reformation.(5)
1. SHS Misc, vi, 47, 73.
2. Myln, Vitae, 41-2.
3. RMS, ii, no 3019.
4. Rentale Dunkeldense, 80.
5. Donaldson (ed.), Thirds of Benefices, 250.
The parish was annexed to that of Auchtergaven in 1618, but was subsequently disunited before being again united with it in about 1647.
The author who wrote the entry in the Statistical Account in 1795 said that part of the church was still standing, being used as a burial place by the family of Tullybelton. It was also said that there had been occasional services over fifty years earlier, but that none of the parishioners remembered there having been a resident minister.
The small polygonal churchyard, with the shell of a watch-house at its southern angle, now presents a rather forlorn spectacle of collapsing memorials rising from a gravelled surface. The location of the church is indicated by a slight platform; before the outline was obscured by the gravelling over of the churchyard, it was said that the platform had dimensions of about 10.2 by 4.8 metres. The church appears to have been aligned from east-north-east to west-south-west.
Cowan, I.B., 1967, The parishes of medieval Scotland, (Scottish Record Society), Edinburgh, 136.
Donaldson, G. 1949, Accounts of the collectors of thirds of benefices, (Scottish History Society), Edinburgh, 250.
Dunlop, A.I., 1939, 'Bagimond's Roll, statement of the tenths of the kingdom of Scotland', Miscellany of the Scottish History Society, vi, 1-77, at 47, 73.
New Statistical Account of Scotland, 1845, Edinburgh and London, x (Forfar), 443.
Perth and Kinross Historic Environment Record Monument Full Report, Logiebride.
Registrum Magni Sigilli Regum Scotorum, 1882, Edinburgh, ii (1424-1513), no 3019.
Rentale Dunkeldense, 1915, ed. R.K. Hannay, (Scottish History Society), Edinburgh, 80.
Royal Commission on the Ancient and Historical Monuments of Scotland, Canmore database.
Statistical Account of Scotland, 1791-9, ed. J. Sinclair, Edinburgh, xvii (1796), 551.
Vitae Dunkeldensis Ecclesiae Episcoporum…Ad Annum Mdxv, 1823, ed. T. Thomson, (Bannatyne Club), Edinburgh, 41-2.
Click on any thumbnail to open the image gallery and slideshow.