Muckersie / Mucrosin Parish Church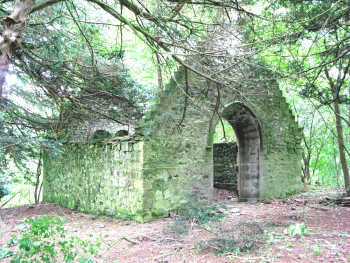 Dedication: unknown
Diocese of Dunkeld
Deanery of Fife and Strathearn
County of Perthshire
Perth and Kinross Council
NO 0732 1565
Parts of the medieval church are identifiable in a rectangular mausoleum of largely seventeenth- and mid-nineteenth-century date.
Dedication: unknown
The church of Muckersie first appears in the surviving record in 1183 when, as 'Mucrosin', it was confirmed in the possession of St Andrews priory by Pope Lucius III.(1) There is no record of who was the original donor of the church. The grant, in any case, was not effective and Muckersie was listed as a free parsonage with a rather low level of income in Bagimond's Roll.(2) The church was still a free parsonage in the early fifteenth century, when there are records of various incumbents as rector, starting with Hugh Gamyl, who had died before June 1406.(3) At that date, the church was valued at a mere 20 merks. Patronage of the church appears to have been held, or at least influenced by, Robert, duke of Albany. Gamyl's successor, Alexander Barber, was described as the Duke's kinsman, and Barber's eventual successor was sir Nicholas Hunter, secretary to the Duke.(4) Hunter's possession of the church was not secure, as his provision came as part of a series of complex exchanges of benefices between Barber, Hunter, John of Kirriemuir, Robert Stanton and Adam Gren, with John petitioning against Hunter in 1419 and claiming irregularity in his provision and unsuitability on the grounds of lack of education.(5) With Albany's support, however, Hunter appears to have been successful in maintaining possession of both the church of Muckersie and also Forteviot, which the Duke seems also to have secured for his secretary.(6)
According to Alexander Myln in his Vitae Dunkeldensis Ecclesiae Episcoporum, Muckersie was annexed to a prebend in Dunkeld cathedral by Bishop Thomas Lauder (1452-75).(7) Confirmation of that annexation survives from 1469, when 6 merks annually were assigned from its fruits towards the funds assigned for the support of six choirboys in Dunkeld cathedral.(8) It appears that the cure was served by a vicarage pensionary thereafter. A vicar, sir William Henrisoun, is on record in November 1512.(9) In January 1553/4 sir Robert Lawson was presented to the vicarage pensionary of Muckersie in succession to the late sir Henry Young.(10) The prebend of Muckersie was held at the Reformation by Mr John Stevenson, chanter of Glasgow, who drew both parsonage and vicarage fruits, paying £10 annually to his vicar pensionar and 6 merks to his 'staller' in Dunkeld.(11)
SHS Misc, vi, 48, 72.
4. CPL, Benedict XIII, 166; RMS, ii, no 117.
5. CPL, Benedict XIII, 152, 166, 321, 341, 357, 373; CSSR, i, 104-6, 184, 193-4; CSSR, ii, 54.
The remains of the church stand in an overgrown oval churchyard above the west side of the Linn of Muckersie; a number of memorials may be seen below the surface vegetation of the churchyard. The building is a rectangle with maximum measurements of 10.18 from east to west 7.23 from north to south, and it stands virtually complete to the wall head. Much of what is now seen appears to be the result of two or more phases of post-medieval reconstruction aimed at fitting it for use as a family chapel or mausoleum for the Belshes family of Invermay House. This adaptation presumably took place after the parish was absorbed into that of Forteviot in 1618. The building has been stripped out at some period and there are now no memorials within it, though an altar-like structure has been erected towards the east end, and slabs in the floor point to the possible existence of a vault.
The east wall is the part of the structure that appears to retain its medieval form to the greatest extent. It is pierced by a pair of small lancets with widely splayed internal embrasures, the jambs of which may be of twelfth- or thirteenth-century date. However, the internal arches above those jambs, together with the raised margins that frame the openings externally, are plainly more modern, as is the crow-stepped gable of this wall, and these features probably date to around the central years of the nineteenth century. Internally the wall has two small square appertures on each side of the windows that could be putlog holes, though it is perhaps more likely that they were associated with the fixings of memorials. The west wall is thinner than its eastern counterpart, and was presumably reconstructed on its present line in order to create a smaller building that was more suited for use as a mausoleum. It is pierced by a large pointed doorway of two chamfered orders framed by a raised margin and a hood moulding, and there is a simple band plinth course at the base of the wall.
The north and south walls present a number of puzzling features. They are slightly thinner than the east wall, and scarring on each side of the inner face of the east wall suggests that they have been pared back at some stage, having perhaps initially been of a thickness still perpetuated in a narrow bench at the base of each wall. As was common in medieval parish churches, the north wall is blank, but the south wall bears traces of a symmetrical disposition of a central doorway flanked on each side by a large window. This is not an arrangement that would be expected in a medieval church, but is something to be found in a number of private post-Reformation chapels in which the architectural emphasis was on the south flank rather than the west front, as may be seen for example at Ferniehurst, in the Borders, of 1621 or Fordell, in Fife, of 1650. There are also parallels with the truncated church at Strowan, in Dunblane diocese, the chancel of which was similarly adapted for mortuary purposes. It may be noted that the external reveals of the blocked openings in the south wall were chamfered and that there is no evidence of the raised margins that are a feature of the modifications seen in the east and west walls; indeed, it appears that it was in the mid-nineteenth-century phase that the openings in the south wall were blocked.
On this basis it is likely that there may have been two main phases of post-Reformation adaptation of the church. In the first phase, which is perhaps datable to the seventeenth century, the medieval church was truncated to make it more suitable for reduced use as a private family chapel. At this stage its side walls were pared down internally and a symmetrical new south front was created. In the second phase, datable to around the mid-nineteenth century, the building was modestly regothicised and the emphasis reverted to the truncated line of the west front through the insertion of a new doorway.
The font that used to be located within the church has been removed to Forteviot Church.
Calendar of Papal letters to Scotland of Benedict XIII of Avignon, 1976, ed. F. McGurk, (Scottish History Society) Edinburgh, 15, 166, 321, 341, 357, 373.
Calendar of Scottish Supplications to Rome 1418-22, 1934, ed. E.R. Lindsay and A.I. Cameron, (Scottish History Society) Edinburgh, 104-6, 184, 193-4
Calendar of Scottish Supplications to Rome 1423-28, 1956, ed. A.I. Dunlop, (Scottish History Society) Edinburgh, 54.
Cowan, I.B., 1967, The parishes of medieval Scotland, (Scottish Record Society), Edinburgh, 153.
Dunlop, A.I., 1939, 'Bagimond's Roll, statement of the tenths of the kingdom of Scotland' Miscellany of the Scottish History Society, vi, 1-77, at 48, 72.
Gifford, J., 2007, The Buildings of Scotland, Perth and Kinross, New Haven and London, 434.
Kirk, J., 1995, The books of assumption of the thirds of benefices, (British Academy) Oxford, 326.
Liber cartarum prioratus Sancti Andree in Scotia, 1841, ed. T. Thomson, (Bannatyne Club), Edinburgh, 59.
MacGibbon, D. and Ross, T., 1896-7, The ecclesiastical architecture of Scotland, Edinburgh, iii (1897), 502.
New Statistical Account of Scotland, 1845, Edinburgh and London, x, 1175. 
Registrum Magni Sigilli Regum Scottorum, 1882, Edinburgh, ii (1424-1513), nos 1056, 3790.
Registrum Secreti Sigilli Regum Scotorum, 1908-82, ed. J.M. Thomson et al., Edinburgh, iv, no 2332.
Vitae Dunkeldensis Ecclesiae Episcoporum…Ad Annum Mdxv, 1823, ed. T. Thomson, (Bannatyne Club), Edinburgh, 24.
Click on any thumbnail to open the image gallery and slideshow.