Redgorton Parish Church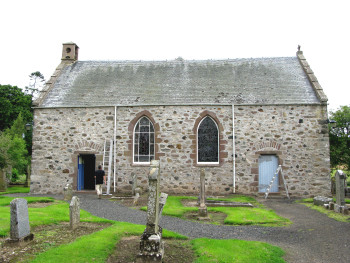 Dedication: unknown
Diocese of Dunkeld
Deanery of Angus
County of Perthshire
Perth and Kinross Council
NO 0836 2838
The existing parish church is a T-shaped structure dating in its present form largely from 1839 and 1869. It is possible, however, that its main body embodies a substantial part of its medieval predecessor.
Dedication: unknown
The church of Redgorton, together with all its lands, teinds and other rights, was granted to Scone Abbey in c.1218 by Malcolm, earl of Fife.(1) Appropriation to the uses of the canons appears to have followed shortly afterwards and was confirmed in 1229 by King Alexander II.(2) The grant in proprios usus was confirmed by Bishops Geoffrey and Richard of Dunkeld.(3) The bishops' confirmations conceded to the canons the right to serve the church with chaplains or with one of their own number. The canons exercised that right, as illustrated by a surviving instance in October 1374 when Michael, bishop of Dunkeld, instructed installation of Peter of Liff, canon of Scone, as vicar pensionary of Redgorton, with his portion being given as 10 merks.(4) The church remained annexed to the abbey at the Reformation. (5)
The parish church, which is currently in use as a furniture store, is a T-plan structure. Its main body dates largely from 1776, while the north aisle was added in 1839-40 to the designs of the elder Andrew Heiton, and there were further works in 1869-71.
However, the survival of seventeenth- and eighteenth-century gravestones makes clear that the church stands within an established burial ground, and there is nothing to suggest that the medieval church was located elsewhere within the parish. Beyond that, it cannot be ruled out that the main body of the church has as its basis its medieval predecessor. The dimensions of 16.9 metres from east to west and 8.6 metres from north to south would accord well with those of a medieval nave, and while the building is not strictly oriented (the east to west axis being closer to east-north-east to west-south-west), that would not be inconsistent with medieval orientation. It may be added that the two doorways in the south wall appear to incorporate some earlier stones in their jambs, though the angle of their chamfer probably points to a post-medieval rather than medieval date. In conclusion, therefore, while the proportions and orientation of the building would be consistent with the retention of medieval fabric, and this must be regarded as a clear possibility, there is nothing now visible that can be seen to be irrefutably medieval.
Calendar of the Laing Charters, 854-1837, 1899, ed. J. Anderson, Edinburgh, no 6.
Cowan, I.B., 1967, The parishes of medieval Scotland, (Scottish Record Society), Edinburgh, 170.
Gifford, J., 2007, The Buildings of Scotland, Perth and Kinross, New Haven and London, 676-7.
Kirk, J., 1995, The books of assumption of the thirds of benefices, (British Academy) Oxford, 332, 334.
Liber ecclesie de Scon, 1843, (Bannatyne Club) Edinburgh, nos 100, 110, 187.
New Statistical Account of Scotland, 1845, Edinburgh and London, x, 194.
Statistical Account of Scotland, 1791-9, ed. J. Sinclair, Edinburgh, xi (1794), 534.
Click on any thumbnail to open the image gallery and slideshow.