Strathfillan Priory and Parish Church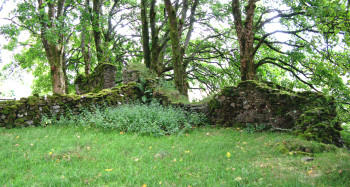 Dedication: unknown
Diocese of Dunkeld
Deanery of Athole and Drumalbane
County of Perthshire
Stirling Council
NN 3586 2841
Fragmentary remains thought to be parts of the south, west and north walls of the small priory and parish church stand within a wooded enclosure, and there is a small separate graveyard to the north-east of that enclosure.
Dedication: unknown
It appears that the chapel of Strathfillan or St Fillan in Glendochart was, at the time of its grant to the canons of Inchaffray, a dependency of the church of Killin (see the entry on that church). This was an ancient site, associated with an early monastery and the location of an important regional cult of St Fillan, but despite the existence of hereditary déoradh or relic-keepers(1) there is no indication that anything more substantial than a dependent chapel had survived there down to the twelfth or thirteenth century. Certainly, it has no record of an independent existence as a parish church and is not listed in Bagimond's Roll. The chapel appears to have served as the church of the priory cell which Inchaffray established at Strathfillan after 1318 and may have consequently acquired parochial status through the probable joint function of the prior of the cell as vicar pensionar of Killin.(2) This situation appears to be confirmed by a papal letter of 1414 which gave possession of the priory to Celestine Johnson, canon of Inchaffray, describing it as neither an elective benefice nor dignity nor parsonage and giving its value as £10 annually, the sum set as the vicar's portion in 1318.(3) The 1414 letter raises a question of how substantial a community was based at Strathfillan, there being a possibility that the 'prior' was the only resident canon. This arrangement would have been in keeping with Robert I's initial grant of the chapel to Inchaffray, which had carried the proviso that the abbey install a single canon to serve there. A single canon, John Gray, was also named in 1542/3. Described as 'prior of the monastery or chapel royal of Strathfillan', in that year, with the permission of the commendator and canons of Inchaffray who as his superiors had the right of patronage of the priory as a cell of their house, he set the lands of Ochtertyre in feuferme to James Campbell of Lawers for payment of 300 merks towards the repair of the church of Strathfillan.(4) What is unclear is whether or not Gray was resident at Strathfillan or if he simply held the title of prior and enjoyed the fruits attached to his nominal office, but was resident at Inchaffray and simply served the cure with a chaplain. In December 1551, the priory, which had been held in commendam by sir Hugh Curry, was exchanged with sir John Paterson, a canon and prebendary of the chapel royal of Stirling.(5)
1. Black Book of Taymouth, xxxiv-xxxvii.
Located within a small wooded enclosure on the east bank of the River Fillan, the remaining fragments of the structure that is assumed to have been the priory and parish church are constructed of pink rubble; it has been robbed of virtually all dressings and architectural features. There is evidence of walls extending for a length of at least 25 metres on both the north and south sides, and there is also a fragment of the west wall. The structure defined by those walls had a width of about 9.65 metres over walls with a thickness of about 1.10 metres, but its total length is unknown. The best surviving parts are along the south wall, which rises to about 2.5 metres for a section of its length, and there are traces of a window opening about 10.3 metres from the west end. There is a cross wall 7.1 metres from the west wall that appears to be of relatively modern construction. A badly broken circular stone basin set against the south end of the east face of the cross wall is generally said to have been a font, though the absence of a drainage hole suggests it is more likely to have been a domestic mortar.
A plan published in 1898 suggested there had been a choir to the east of the existing structure that was of narrower width than the surviving parts to its west. That plan also showed an eastern apse, a square treasury towards the east end of the south choir wall, and a vestry off the east end of the north nave wall. However, it is difficult to see what basis there may have been for this plan, and indeed its author described it as 'an imaginary reconstruction'; it can therefore presumably be dismissed.
There appears to have been a graveyard around the church, and at least one gravestone is still to be seen on the south side of the church. There is another walled graveyard across the trackway that runs along the east side of the priory, on a knoll to its north-east, and some stones may have been moved there from the main churchyard, including one with three roughly incised crosses. But the majority of stones are of the eighteenth and nineteenth centuries.
A number of items were associated with St Fillan's cult. Finest of these is the crozier that is now in the National Museums of Scotland. The copper alloy crozier itself appears to be of the late eleventh or twelfth century, and was encased in a complex silver-gilt reliquary, known as the 'Quigrich' that is a composite piece with elements dating from the twelfth, thirteenth, fourteenth and fifteenth centuries. There is also a twelfth-century bronze bell in the National Museum, and there was apparently a reliquary containing an arm of the saint. A slab incised with an arm above a cross that has been found within the churchyard may be intended to represent that reliquary, and it may be wondered if the slab commemorates one of the relic-keepers.
A nearby holy pool continued to be regarded as efficacious for the cure of lunatics long after the Reformation. 
Calendar of Papal letters to Scotland of Benedict XIII of Avignon, 1976, ed. F. McGurk, (Scottish History Society) Edinburgh, 274, 298.
Cowan, I.B., 1967, The parishes of medieval Scotland, (Scottish Record Society), Edinburgh, 102.
Cowan, I.B and Easson, D.E., 1976. Medieval Religious Houses, Scotland, London, 89, 98.
Gifford, J. and Walker, F.A., 2002, The Buildings of Scotland, Stirling and Central Scotland, New Haven and London, 351-2.
Glenn, V., 2003, Romanesque and Gothic, decorative metalwork and ivory carvings in the Museum of Scotland, Edinburgh, 106-115.
New Statistical Account of Scotland, 1845, Edinburgh and London, x, 1088.
Registrum Magni Sigilli Regum Scotorum, 1883, iii (1513-46), Edinburgh, no 2993.
Registrum Secreti Sigilli Regum Scotorum, 1908-82, ed. J.M. Thomson et al., Edinburgh, i, no 595; iv, 1447, 1448.
Robertson, T.S., 1898, 'Notes on St Fillan's Priory and churchyard, Proceedings of the Society of Antiquaries of Scotland, xxxii, 121-4.
Statistical Account of Scotland, 1791-9, ed. J. Sinclair, Edinburgh, xvii (1796), 377-8.
Click on any thumbnail to open the image gallery and slideshow.