Strathmiglo Parish and Collegiate Church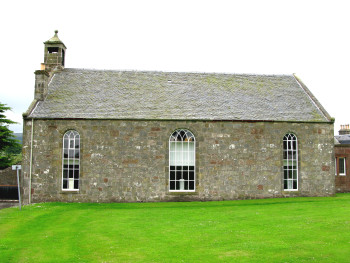 Dedication: unknown
Diocese of Dunkeld
Deanery of Fife and Strathearn
County of Fife
Fife Council
NO 2169 1020 ?
The medieval church has been completely demolished, having been replaced by a new building on an adjacent site in 1783. However, the church is said to have stood near the middle of the old graveyard.
Dedication: unknown
The church of Strathmiglo was granted to the Augustinian priory at St Andrews by Earl Duncan II of Fife (1154-78) and confirmed to the canons by King William in 1173x78.(1) The grant, however, was not effective and the church may have remained a free parsonage. Its parson, Richard, witnessed a charter of Malcolm, earl of Fife, in c.1218 but in 1274 the cure was listed only as a vicarage in Bagimond's Roll.(2) It appears that the parsonage had been annexed to the episcopal mensa of Dunkeld and it remained united in that way at the Reformation.(3)
The perpetual vicarage listed in 1274 was held in October 1394 by John Mason, a canon of Dunkeld, who received papal permission in 1396 to hold further incompatible benefices.(4) Mason appears as the first in a succession of incumbents who held the vicarage of Strathmiglo in conjunction with a canonry and, occasionally, prebend of Dunkeld, but such unions were personal and impermanent.(5)
It is possible that the vicarage was incorporated into the structure of the collegiate establishment founded within the parish church of Strathmiglo in the later 1520s.(6) It is not clear, however, what was the status of Andew Seton, vicar of Strathmiglo, who appears as a witness in July 1534, or Gilbert Seton, who was presented to the vicarage in July 1551: prebendary of the collegiate church, vicar perpetual or vicar pensionar?(7) There is no documented record of such an annexation beyond the fact that while there was reference at the Reformation to a vicarage the cure seems to have been a vicarage pensionary.(8)
1. St Andrews Liber, 223; RRS, ii, no 168.
3. Kirk (ed.), Book of Assumptions, 69.
4. CPL, Benedict XIII, 22, 63-4.
5. CPL, Benedict XIII, 128, 203-4; CSSR, i, 213; CSSR, ii, 86-8.
6. RMS, iii, no 760, where the advowson of the provostry and prebends of the college of Strathmiglo was confirmed to Sir William Scott of Balwearie.
7. RMS, iii, no 1552; RSS, iv, no 1297.
In 1505/6 there were payments of 53s 2d by the granitar of Dunkeld for internal and external repairs to the chancel, but nothing remains of this.
The present church, at NO 2165 1023, was built a short distance to the north-west of its medieval predecessor in 1783-4 by George Kilgour, to the designs of James Ballingall. The quality of workmanship appears to have been a matter of concern even during construction, and in 1845 the author of the section on the parish in the New Statistical Account dismissed it as 'a paltry structure'. The medieval parish and collegiate church is said to have stood at the centre of the old churchyard at about NO 2169 1020. At the entrance to the churchyard is a weathered Pictish Class I stone that had been put to use previously as a gate pier. A gablet dated 1647, which describes Jesus Christ as the door, has been built into an extension of 1936 at the entrance to the church; it is said to have come from the gateway to the churchyard, but may in fact have been part of an addition to the old church.
Calendar of Papal letters to Scotland of Benedict XIII of Avignon, 1976, ed. F. McGurk, (Scottish History Society) Edinburgh, 22, 63-4, 128, 203-4.
Cowan, I.B., 1967, The parishes of medieval Scotland, (Scottish Record Society), Edinburgh, 191-2.
Dunlop, A.I., 1939, 'Bagimond's Roll, statement of the tenths of the kingdom of Scotland' Miscellany of the Scottish History Society, vi, 1-77, at 48, 72.
Gifford, J., 1988, The Buildings of Scotland, Fife, London, 413-4. 
Hay, G., 1957, The architecture of Scottish post-Reformation churches, Oxford, 80, 187, 258.
Kirk, J., 1995, The books of assumption of the thirds of benefices, (British Academy) Oxford, 69.
Liber cartarum prioratus Sancti Andree in Scotia, 1841, ed. T. Thomson, (Bannatyne Club), Edinburgh, 223.
New Statistical Account of Scotland, 1845, Edinburgh and London, ix (Fife), 785.
Regesta Regum Scottorum, Acts of William I (1165-1214), 1971, Edinburgh, no 168.
Registrum Magni Sigilli Regum Scottorum, 1883, Edinburgh, iii (1513-46), nos 760, 1552.
Registrum Secreti Sigilli Regum Scotorum, 1908-82, ed. J.M. Thomson et al., Edinburgh, iv, 1297.
Statistical Account of Scotland, 1791-9, ed. J. Sinclair, Edinburgh, iv (1792), 403.
Vitae Dunkeldensis Ecclesiae Episcoporum…Ad Annum Mdxv, 1823, ed. T. Thomson, (Bannatyne Club), Edinburgh, 10.
Click on any thumbnail to open the image gallery and slideshow.