Tealing Parish Church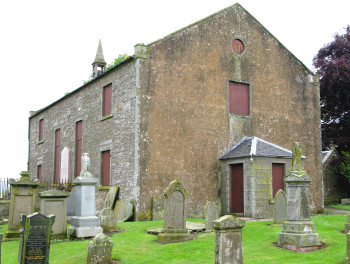 Dedication: unknown
Diocese of Dunkeld
Deanery of Angus
County of Angus
Angus Council
NO 4034 3793
The church, which is basically of rectangular plan, dates from 1806; a vestry has been added against its south face, and small porches at its east and west ends. It is no longer in use and its doors and windows are currently boarded up.
Dedication: unknown
There appears to have been an early religious establishment at or near the site of the medieval parish church for, at the time of its grant by Hugh Giffard and his son, William, to the canons of St Andrews priory, reference is made to the toft of the déoradh or keeper of relics associated with a saint or holy man of the early Scottish Church. The Giffards' charter has not survived but their grant was confirmed by King William before 1195.(1) Despite papal confirmation by Pope Innocent III in 1206 (2) the canons do not seem to have been able to secure physical possession of the church. Certainly, it appears as a free parsonage in Bagimond's Roll in the 1270s.(3)
By at least the late fourteenth century, the bishop of Dunkeld seems to have annexed the parsonage to the archdeaconry of Dunkeld. The vicarage may not have been annexed, for in 1408 John de Samuelston received letters from Pope Benedict XIII instructing his collation to the vicarage perpetual of Tealing following the death of Ingeram de Kettins, described in the letter only as 'rector' of Tealing but in fact archdeacon of Dunkeld.(4) In 1442, however, Adam Montgomery, archdeacon of Dunkeld, petitioned the pope that Ingeram de Kettins, a predecessor as archdeacon, had held both parsonage and vicarage, and that down to Ingeram's time the cure had been served only by a chaplain or vicar pensionary. Ingeram, however, was alleged to have detatched the vicarage from the archdeacon's prebend and assigned it to a 'friend.'  That friend, probably Samuelston, had been collated successfully and, on his resignation of the benefice, a successor, John de Keyr, had been instituted as vicar perpetual. Montgomery claimed that the disjunction of the vicarage from his prebend had been illegal and appealed for its re-annexation on the death, resignation or demission of Keyr.(5) Montgomery was unsuccessful and the cure remained a vicarage perpetual, described as 'ane sympill vicarage' at the Reformation.(6)
In 1512, William Maxwell, lord of Tealing, founded a chaplainry in the church or chapel of the Annunciation of the Blessed Virgin Mary in Tealing. This he endowed with an annual rent of 10 merks from various properties, a 'chamber of wood, stone, lime and tile' built by himself and his son, sir Robert Maxwell, who held the chaplainry, a garden, and another house near to the chamber in the Kirkton.(7) Although this chaplainry was an endowed benefice, it does not appear in the Book of Assumptions in the 1560s.
6. Cowan, Parishes, 196; Kirk (ed.), Book of Assumptions, 308n, 364.
A church here is traditionally believed to have been founded as part of St Boniface's mission in the seventh century, with its site said to have been a short distance to the north of Tealing House. While that tradition must be viewed with the greatest caution, there would certainly seem to have been a Christian community here from an early date on the evidence of a fragment of a cross slab that used to be built into the wall of the church but that is now in the McManus Galleries in Dundee.
The present parish church dates from 1806, but is said to have been built on the site of its predecessor, and its oriented alignment would support that statement. A number of earlier fragments were built into its wall, including the cross slab fragment already mentioned. Still to be seen, in the external north wall above the vestry, is a relief carving of a pair of trumpeting angels that appear likely to be from a seventeenth-century monument.
More important for present purposes are three stones that evidently originated in the medieval church. One of these is what is almost certainly a fragment of a fifteenth-century Sacrament House. This had previously been set into the west gable of the church, but was built into the internal south wall at the time of a restoration carried out in 1895. It consists of the lintel from above the locker of the Sacrament House; it is decorated with a miniature pinnacle to each side, a depressed crocketed ogee arch at the bottom and a foliate cornice at the top. Framed by these elements are a pair of winged angels and the head and shoulders of Christ, all of whom hold scrolls inscribed with texts. That held by Christ states 'HIC EST CORPUS M', while the angels' scrolls proclaim 'ADORAMUS TE' and 'BENEDICIMUS TE'. In its overall design this fragment shows significant similarities with the Sacrament House at Fowlis Easter, about ten kilometres to the south-west, except that there Christ is shown as the Salvator Mundi, and the angels hold the instruments of the Passion rather than texts.
The second stone of significance, which is also built into the south wall, is a memorial to Ingram de Ketenis, Archdeacon of Dunkeld from about 1351, and for whom this was one of his prebendal churches. A transcript of the text on this memorial published in 1873, which is probably not entirely reliable, gives it as '+heyr:lyis:Ingram:of:Kethenys:prist:mastyr:í:arit:ercdene:of:dúkeldý:made:i:hys:xxxii:yhere:prayis:for:hym:yat:deyt:hafand:lx::        yherys:of:eyld:in:the:yher:of:cryst:m:ccc:lxxx'
The third significant stone is now set into a wall by the churchyard gate. The eroded image with which it is carved appears to be a representation of Christ in Majesty set within a trifoliate-headed recess. It possibly formed part of a liturgical fixture and, together with the remains of the Sacrament House, it suggests that the church was fitted out with considerable artistic splendour.
The church was linked with Murroes in 1963, and in 1982 was abandoned in favour of Murroes. An attempt to create a heritage centre within the building had failed by 1999, and the church is now boarded up and inaccessible.
Allen, J.R. and Anderson, J., 1903, The Early Christian Monuments of Scotland, Edinburgh, pt 3, 234.
Calendar of Papal letters to Scotland of Benedict XIII of Avignon, 1976, ed. F. McGurk, (Scottish History Society) Edinburgh, 182.
Calendar of Scottish Supplications to Rome 1433-47, 1983, ed. A.I. Dunlop and D MacLauchlan, Glasgow, no 897.
Cowan, I.B., 1967, The parishes of medieval Scotland, (Scottish Record Society), Edinburgh, 196.
Dunlop, A.I., 1939, 'Bagimond's Roll, statement of the tenths of the kingdom of Scotland', Miscellany of the Scottish History Society, vi, 1-77, at 48, 72.
Fraser, I., 1998, 'An additional medieval sculpture at Tealing, Angus', Tayside and Fife Archaeological Journal, iv, 166-9.
Hay, G., 1957, The architecture of Scottish post-Reformation churches, Oxford, 239, 246.
Hutcheson, A., 1896, 'Notice of an early inscribed and mural monument and of an undescribed sculptured stone preserved in the parish church of Tealing, Proceedings of the Society of Antiquaries of Scotland, xxx, 47.
Hutcheson, A., 1911 'Notice of fragments of sculptured stone at the church of Tealing near Dundee, Proceedings of the Society of Antiquaries of Scotland, xlv, 420-27.
Kirk, J., 1995, The books of assumption of the thirds of benefices, (British Academy) Oxford, 308n, 364.
Liber cartarum prioratus Sancti Andree in Scotia, 1841, ed. T. Thomson, (Bannatyne Club), Edinburgh, 325.
Macaulay, S., 1910, 'Sacrament House, Tealing, Tresactions of the Scottish Ecclesiological Society, iii, 95-7.
New Statistical Account of Scotland, 1845, Edinburgh and London, xi (Forfar), 381.
Regesta Regum Scottorum, Acts of William I (1165-1214), 1971, Edinburgh, no 354.
Registrum Magni Sigilli Regum Scotorum, 1883, iii (1513-46), Edinburgh, no 41.
Royal Commission on the Ancient and Historical Monuments of Scotland, Canmore database.
Statistical Account of Scotland, 1791-9, ed. J. Sinclair, Edinburgh, iv (1792), 99.
Warden, A.J., 1880-5, Angus or Forfarshire, the land and people, historical and descriptive, Dundee, v, 210-13.
Click on any thumbnail to open the image gallery and slideshow.